The Saskatoon Police Service is seeking assistance in locating a 14-year-old female patient by the name of Destiny Desjarlais, who decided to leave the Royal University Hospital while under medical care at 9:30 p.m., October 26, 2016.
Destiny is described as Indigenous, 5'5" in height, with shoulder-length brown hair and brown eyes. She was last seen wearing a darkercoloured sweater and darker coloured leggings. She requires immediate health care services.
Anyone with information on the whereabouts of this individual is asked to contact Saskatoon Police at 306-975-8300 or Crime Stoppers at 1-800-222-8477.
(Occurrence Number: 16-108248)
ATTACHMENT: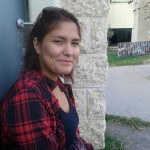 (Click to view full size)