Saskatoon Police are requesting public assistance in locating a 17-year-old boy.
Vince Harper, 17, was last seen leaving a hotel in the 2000 block of Avenue B North at approximately 6:30 a.m., October 31, 2016. He was reported to have left in a vehicle which was later located in the 100 block of Avenue J South. Police and family are concerned as Vince may be in a vulnerable state.
Vince is described as Indigenous, 6'3" in height, 185 lbs with a slim build. He has shaved brown hair and brown eyes. He was last seen wearing a pull-over camo shirt, black Nike pants, and grey Velcro running shoes. He also was reported to have his right hand in a bandage.
A picture has been attached for distribution.
Anyone with information on the whereabouts of Vince Harper is asked to contact Saskatoon Police at 306-975-8300 or Crime Stoppers at 1-800-222-8477.
(Occurrence Number: 16-109957)
ATTACHMENT: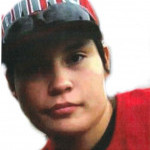 (Click to view full size)