April 5, 2017 9:27 AM




The 15 year old subject of a missing person investigation has been located by police at a relative's home and returned to his place of residence.

The SPS would like to thank the public and the media for their assistance in this investigation.
Saskatoon Police are requesting public assistance in locating a 15-year-old boy.
Darnell Bouvier, 15, was last seen at 7:00 p.m., February 6, 2017, leaving his place of residence in the 1400 block of 1st Avenue North. Efforts by Police to locate Darnell since that time have been unsuccessful.
Darnell is described as being Metis, 5'8" in height, 162 lbs, with brown eyes and short dark brown hair. He has a tattoo on his left arm of a cross. He was last seen wearing white sweatpants and a black sweater.
Anyone with information on the whereabouts of Darnell Bouvier is asked to contact Saskatoon Police at 306-975-8300 or Crime Stoppers at 1-800-222-8477.
For more information on safety, support and prevention, visit missingkids.ca.
(Occurrence Number: 17-12768)
ATTACHMENT: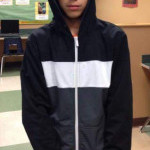 (Click to view full size)