Saskatoon Police are requesting the public's assistance in locating 23 year old Tamara Kayseas.
Ms. Kayseas was last seen at approximately 1am on April 14, 2017 in the 1400blk of Idylwyld Drive North. Police and family are concerned for her safety as she is 27 weeks pregnant. She is described as an Indigenous female and was last seen wearing a grey shirt and black pants. Her shoes and cell phone were left behind at her residence.
A picture is attached for distribution.
Anyone with information on the whereabouts of Tamara Kayseas is asked to contact Saskatoon Police at 306-975-8300 or Crime Stoppers at 1-800-222-8477.
ATTACHMENT: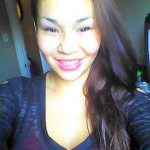 (Click to view full size)