Saskatoon Police are requesting the public's assistance in locating 11-year-old Nikeelin Parenteau.
Nikeelin was last seen at approximately 11:00 a.m., May 29, 2017 at a school in the 200 block of Avenue S South. She is described as indigenous with fair skin, brown eyes and brown, straight, shoulder-length hair. She is usually seen wearing her hair in a ponytail or a bun and her hair is shaved above her neck. She is 4'7" tall and weighs 140lbs. She was last seen wearing a black and white bunnyhug and black pants.
A picture is attached for distribution.
Anyone with information on the whereabouts of Nikeelin Parentau is asked to contact Saskatoon Police at 306-975-8300 or Crime Stoppers at 1-800-222-8477.
(Occurrence Number: 17-53154)
ATTACHMENT: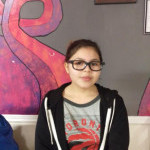 (Click to view full size)