The Saskatoon Police Service is requesting the public's assistance in locating a missing 31 year old man.
Alden Shingoose 31 yrs, was last seen in the early morning hours on May 31st in the Massey Place neighborhood of Saskatoon. Alden is described as an Indigenous male, 6' 2" in height, weighing 276 lbs. He was last seen wearing a black t-shirt with a black leather vest, dark blue jeans, black runners and an "Undergrind" black baseball hat. Please see the attached photo.
Anyone with information on the whereabouts of Alden Shingoose, is asked to contact Saskatoon Police at 306-975-8300 or Crime Stoppers at 1-800-222-8477.
(Occurrence Number: 17-54777)
ATTACHMENT: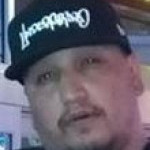 (Click to view full size)