Police are releasing surveillance images after the armed robbery of a financial institution yesterday afternoon.
At approximately 4:20 p.m., January 18, 2017, Police received a report that two males entered a financial institution in the 2800 block of 8th Street East. One of the males was reportedly armed with a handgun. They demanded cash and assaulted a male employee. The suspects fled in a vehicle prior to Police arrival.
Both male suspects are described as "younger", approximately 6' in height with slim builds. They both wore white masks, sunglasses, grey clothing and distinct-coloured footwear. Photos are attached for distribution. The vehicle they fled in is described as a newer dark-coloured Jeep Grand Cherokee style SUV.
Anyone with information on this incident is asked to contact Saskatoon Police at 306-975-8300 or Crime Stoppers at 1-800-222-8477.
(Occurrence Number: 17-6447)
ATTACHMENT: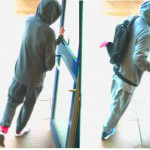 (Click to view full size)