June 11, 2017 6:46 AM




On June 2, 2017, 15 year old Honey Arthur went missing and has since returned and is now being cared for by her caregivers.

The Saskatoon Police Service want to thank the media and public for their assistance in this matter.
The Saskatoon Police Service is requesting the assistance of the public in locating a missing 15 year old female. Honey Arthur, was last seen on June 2, 2017 at 1130 hrs at Aden Bowman High School.
Arthur is described as being Caucasian, 5'0" in height, weighing 120lbs. She has blonde hair with faded pink and blue highlights, in a "bob" hairstyle. She has blue eyes. When she went missing she was wearing a black tank top, burgundy skirt and black flip flops. Please see the attached photo.
Anyone with information of the whereabouts of Honey Arthur is asked to contact the Saskatoon Police at 306-975-8300 or Crime Stoppers at 1-800-222-8477.
(Occurrence Number: 17-54780)
ATTACHMENT: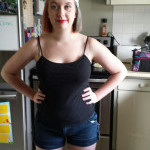 (Click to view full size)