Saskatoon Police are releasing a composite sketch of a suspect in a sexual assault from earlier this month.
The suspect is described as Indigenous, in his late teens or early 20's, approximately 120-130 lbs with a "brush cut" and a scar over his left eyebrow.
Police also believe this person may be responsible for two other incidents of inappropriate touching.
Anyone with information on the identity of this man is asked to contact Saskatoon Police at 306-975-8300 or Crime Stoppers at 1-800-222-8477.
(Occurrence Number: 17-68080)
ATTACHMENT: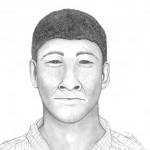 (Click to view full size)