The Saskatoon Police Service is requesting the publics' assistance in locating 16 year old Shayla Ryerson. Family members have not heard from Ryerson since the evening of January 21st and are concerned for her welfare and her health. Ryerson has a medical condition that requires medication.
Shayla Ryerson is described as 5'2", 111 lbs, Caucasian, red shoulder length hair, blue eyes. Photo attached for distribution.
Anyone with any information regarding the whereabouts of Shayla Ryerson is asked to contact the Saskatoon Police Service at 306-975-8300 or Saskatoon Crime Stoppers at 1-800-222-8477.
(Occurrence Number: 17-5669)
ATTACHMENT: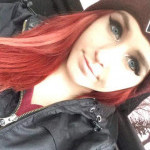 (Click to view full size)