August 27, 2017 2:13 PM




Nyanhail Smoke has been located. She was found by a family member while walking near the intersection of Appleby Drive and Avenue W South. The police would like to thank the public and media for their assistance in this matter.
Saskatoon Police are requesting public assistance in locating a 10-year-old girl.
Nyanhail "Nenny" Smoke, 10 years old, was last seen at 3:00 p.m., August 26, 2017, in the Westmount area. Efforts by Police to locate Nenny since that time have been unsuccessful.
Nenny is described as being African American, dark skin, 5'7" in height, 140 lbs, medium to heavy set, short 1" black hair, good teeth, and right handed. She was last seen wearing a dressy cream colored tank top with pink flowers around the bottom and grey mesh on the back, longer fleecy black shorts with colorful writing all over, tan high top runners with pink trim and pink laces.
A photo is attached for media distribution. Her hair is different than in the photo and is only about 1" long.
Anyone with information on the whereabouts of Nenny Smoke is asked to contact Saskatoon Police at 306-975-8300 or Crime Stoppers at 1-800-222-8477.
For more information on safety, support and prevention, visit missingkids.ca.
(Occurrence Number: 17-89655)
ATTACHMENT: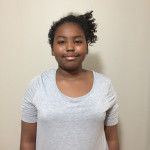 (Click to view full size)