Saskatoon Police are requesting assistance in locating a missing 9 year old boy. Eliaren Tom, aged 9 went missing from the 600 block of 28th street West sometime yesterday after 6p.m. and was reported missing at 6 p.m. today.
Eliaren is described as 4 feet tall, medium to heavy build, blonde hair with a half mohawk style hair, Bluejays ball cap, grey and yellow jacket, and orange and blue shoes.
Anyone with information on his whereabouts is asked to contact the Saskatoon Police Service at 306-975-8300, or Crime Stoppers at 1800-222-8477.
(Occurrence Number: 18-2761)
ATTACHMENT: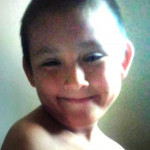 (Click to view full size)