The Saskatoon Police Service is requesting public assistance in locating a 27 year old male.
Desmond Fischer has been missing from his residence since approximately 6:00PM on June 25, 2018.
Fischer is described as being 5' 9" tall, 160lbs and has a slim build. He has short brown hair, blue eyes and a goatee. He may be wearing blue jeans and a white t-shirt.
Fischer is likely in a vulnerable state and his family is concerned for his welfare.
A photograph of Fischer is attached which was taken previous to him having a goatee.
If you have information that would assist in this investigation, please contact the Saskatoon Police Service at 306-975-8300 or Crime Stoppers at 1-800-222-8477.
(Occurrence Number: 2018-66056)
ATTACHMENT: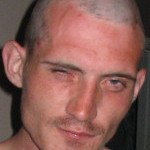 (Click to view full size)