The Saskatoon Police Service Cultural Resources Unit in partnership with Brainsport, the City of Saskatoon's Cultural Diversity and Race Relations Committee, the Newcomer Information Centre, the Saskatoon Open Door Society, the Saskatchewan Intercultural Association, International Women of Saskatoon, Global Gathering Place and the Saskatoon Tribal Council, will be hosting the 8th Annual Race Against Racism on Saturday, September 22, 2018 at 10:00 a.m..
This year, the fun run/walk/stroller roll will have three distances; 10 km, 5 km and 2.5 km, and will again feature the free Cultural World Expo for all to enjoy.
The message remains the same - that people in our community will not accept racism. This event began in 2011 with the goal of providing a positive environment for people of all ages, cultures, religions and ethnic backgrounds, to safely share their support for that message. Participants can take part in an active and healthy event, while developing positive community relationships. There is a nominal fee for the 5 km and 10 km distances, while the 2.5 km distance is free this year. As always, participants under the age of 18 can participate for free for any of the three distances.
Proceeds from registration fees will be shared among the five settlement agencies. Participants are also encouraged to bring a non-perishable food item to "Cram the Cruiser" in support of the Saskatoon Food Bank and Learning Centre.
People are encouraged to pre-register online at www.picatic.com/RaceAgainstRacismYXE. Some onsite registrations will be available on race day from 8 a.m. to 9:30 a.m., with the event beginning at 10:00 a.m. The event will start and end in Victoria Park (near the boathouse). For further information contact Sgt. Keith Salzl at keith.salzl@police.saskatoon.sk.ca or Angela Daigneault at angela.daigneault@police.saskatoon.sk.ca .
ATTACHMENT: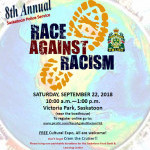 (Click to view full size)