Saskatoon Police are releasing a composite sketch and requesting public assistance in identifying a suspect believed to be involved in two robberies from earlier this month.
At approximately 7:15 p.m., November 13, 2018, two males on mountain bikes approached a 59-year-old man from behind on the pedestrian overpass at 22nd Street and Circle Drive. The suspects assaulted the man and fled with the victims backpack, which contained a rare book, titled "Missing 411 Hunters".
One of the suspects is described as being in his 20's, approximately 5'9" in height, 150 lbs with a slim build. He was last seen wearing all black (including toque and mitts) and a dark blue "Columbia" jacket. A composite sketch of this suspect is attached for distribution.
The second suspect is described as being in his 20's, approximately 6' in height, 160 lbs with a slim build. The bike that this suspect was riding had orange on the handle bars.
A similar robbery occurred on November 9 at approximately 3 p.m. in which a victim was approached on the pedestrian overpass by two males dressed all in black, this time on foot.
Anyone with information on the identity of this suspect is asked to contact Saskatoon Police Service at 306-975-8300 or Crime Stoppers 1-800-222-8477.
(Occurrence Number: 18-120976)
ATTACHMENT: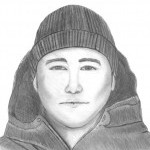 (Click to view full size)