This past weekend, members of the Saskatoon Police Service and RCMP F Division joined four veteran players of the Saskatoon Blades hockey team in Vancouver for Project Face-off.
Project Face-off is a drug awareness partnership between the three organizations aimed at educating youth about the effects and consequences of substance abuse.
Over the weekend, the players were accompanied by Police Officers from the SPS, RCMP F Division, the Vancouver Police Department and Odd Squad Productions, as they toured East Hastings Street and the Downtown Eastside of Vancouver to learn more about the effects of drugs. The players spoke to many people on the street who shared their stories and messages about substance abuse.
Throughout the remainder of the school year, both Police and Blades players will jointly present to students in grades 6-8 in Saskatoon about the importance of making healthy lifestyle choices, and the risks and dangers associated with drug abuse.
Last year, Project Face-off spoke to approximately 1800 youth in 20 schools across Saskatoon. Project Face-off has been running since the 2004-2005 season.
ATTACHMENT: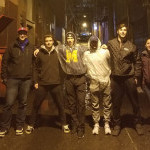 (Click to view full size)