The Saskatoon Police Service is focusing on impaired drivers this holiday season.
You may have noticed new messaging on our social media over the past few days. #DontWreckTheHolidays is the theme of SPS's social media campaign to help raise awareness around impaired driving on Facebook, Twitter and Instagram. A photo and the hashtag accompany a public awareness message to help everyone celebrate the holidays responsibly.
"We need to continue coming up with new, innovative ways to let people know it's not okay to get behind the wheel impaired, whether that be under the influence of cannabis, liquor, prescription medications or anything else for that matter," says Deputy Chief Mitch Yuzdepski, "But the message remains the same; don't drive impaired and don't wreck the holidays."
Officers will be ensuring drivers are sober through a number of upcoming holiday checkstops. Police will be stopping vehicles in high-traffic areas to enforce impaired driving laws. A national change to the laws around roadside breath testing comes into effect today; Police no longer need reasonable ground to demand a sample of a driver's breath, during a traffic stop. This only adds to the laundry list of reasons to not drive impaired.
Saskatchewan holds the top spot in the country for impaired driving rates. Let's help lower the statistics by driving sober and planning a safe ride home this holiday season.
ATTACHMENT: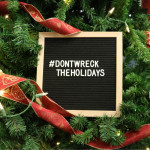 (Click to view full size)