Saskatoon Police are requesting public assistance in identifying persons responsible for a break and enter and assault from early February.
Shortly after 8:00 p.m. on February 7, 2019, four males wearing masks, and a female, illegally entered an apartment in the 100 block of Reindeer Road and assaulted one of the two occupants. The suspects stole cash and hydromorphone pills. Three of the suspects are believed to have been carrying firearms. They all fled in what is believed to have been a dark-coloured Nissan Frontier.
The victim of the assault was transported to hospital for treatment of minor injuries.
Police are releasing surveillance images of the suspects and vehicle in the hopes that someone can identify them. The photos can be viewed individually on the SPS Facebook page.
Anyone with information on the identity of these individuals is asked to contact Saskatoon Police at 306-975-8300 or Crime Stoppers at 1-800-222-8477.
(Occurrence Number: 19-12773)
ATTACHMENT: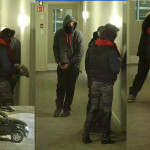 (Click to view full size)