January 4, 2019 2:19 PM




Abdullah Al-Masum, the subject of a missing person investigation, has been located and was found to be deceased.

The death is not suspicious in nature.

No further information will be released.
Saskatoon Police are requesting assistance in locating a 30-year-old man.
Abdullah Al-Masum, 30, was last seen leaving his place of residence in the 10 block of Stephenson Crescent before midnight on January 2, 2019. Police are concerned after being alerted to concerning comments regarding self-harm appeared online.
He is described as 5'8" in height with short black hair and glasses. He may be traveling on a blue mountain bike. A clothing description was not available.
A photo is attached for media distribution.
Anyone with information on the whereabouts of Abdullah Al-Masum is asked to contact Saskatoon Police at 306-975-8300 or Crime Stoppers at 1-800-222-8477.
(Occurrence Number: 19-1269)
ATTACHMENT: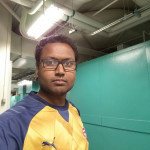 (Click to view full size)