The Saskatoon Police Service is asking for the public's assistance in locating a 17 year old female.
Justus McFie was last seen in the 600 block of 20th Street West at approximately 1:00 p.m., on May 6, 2019 and her family is concerned for her welfare.
McFie is described as being 5' 3" tall, shoulder length brown hair with bangs, brown eyes and was last seen wearing a black wind jacket, black shirt with flowers, white tank top, faded black sweat pants and red or pink shoes.
A photograph of McFie is attached for media distribution.
Anyone with information on the whereabouts of Justus McFie is asked to contact the Saskatoon Police Service at 306-975-8300.
(Occurrence Number: 2019-44636)
ATTACHMENT: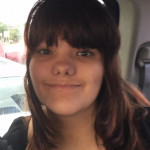 (Click to view full size)