May 11, 2019 7:21 PM




The subject of a missing persons investigation has been located and found to be safe.

Ava Scott was located at a police earlier today.

Police wish to thank the public and media for their assistance.
The Saskatoon Police Service is asking for the public's assistance in locating a 15 year old female.
Ava Scott was last seen in the 600 block of Wiggins Avenue at approximately 9:00 a.m., on May 9, 2019 and her family is concerned for her welfare.
Scott is described as being 5' 5" tall with shoulder length strawberry blonde hair and green eyes. Her nose is pierced on the left side and has a section of missing hair above her right eye and she has braces. Scott was last seen wearing a red wind breaker with a white and blue stripe, loose fitting two tone jeans, white runners and a black and white checkered fanny pack.
A photo is attached for media distribution.
Anyone with information on the whereabouts of Ava Scott is asked to contact the Saskatoon Police Service at 306-975-8300
(Occurrence Number: 19-45906)
ATTACHMENT: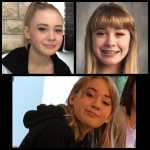 (Click to view full size)