June 7, 2019 8:32 AM




Doug Meachem has been located and found to be safe.

Police wish to thank the public for their assistance.



June 7, 2019 4:09 AM




The Missing Person mentioned below goes by the usual first name of "Doug", with a correction in the spelling of the last name as MEACHEM.
The Saskatoon Police Service is asking for the public's assistance in locating an 80 year old male.
C D MEACHAM was last seen at approximately 2:20 p.m. on June 6, 2019, leaving his home in the 100 block of Emerald Crescent. He was driving a 4 door 2010 Honda Accord, white in colour, with Saskatchewan license plate 990APA.
MEACHAM is described as being 5' 11" tall, 180 lbs. He has white and wears glasses. He looks exactly like the attached photo, but with glasses on.
He was last seen wearing a black leather jacket, dark button-up shirt, and black jeans.
Anyone with information on the whereabouts of C D MEACHAM is asked to contact the Saskatoon Police Service at 306-975-8300.
(Occurrence Number: 19-57206)
ATTACHMENT: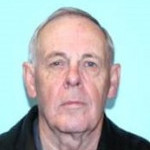 (Click to view full size)