June 7, 2019 9:32 AM




Phawn Bougie has been located and found to be safe.

Police wish to thank the public for their assistance.
The Saskatoon Police Service is asking for the public's assistance in locating a 30 year old female.
Phawn BOUGIE was last seen at approximately 9:00 p.m. on June 6, 2019, leaving her home on foot in the 3800 block of Diefenbaker Drive. Her family is concerned for her welfare because she is in a vulnerable state.
BOUGIE is described as being 5' 10" tall, 90 lbs. She has long straight brown hair that is usually worn in either a pony tail or with a hat, and wears glasses.
She was last seen wearing a black/white top and black leggings.
Anyone with information on the whereabouts of Phawn BOUGIE is asked to contact the Saskatoon Police Service at 306-975-8300.
A photo is attached for media distribution.
(Occurrence Number: 19-57244)
ATTACHMENT: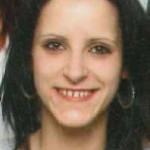 (Click to view full size)