Yesterday the Saskatoon Police Service, in conjunction with the Saskatoon Police Foundation, was proud to present the Okihtcitawak Patrol Group with equipment to help them keep people in Saskatoon's inner-city safe.
Chief Troy Cooper and Foundation Board Member Vera Pezer met with members of the Okihtcitawak Patrol Group, or O.P.G., to deliver newly purchased flashlights, knife resistant-gloves, identifying patches and vests.
"The Foundation is pleased to provide this grant to provide equipment to the O.P.G. to assist it with its work with Police," says Vera Pezer, Foundation Board Member. "The mission and work of the O.P.G. and their contribution to the community policing model is endorsed by the Foundation."
Earlier this year, the Police Service also outfitted the volunteer-based group with radios to be used while they are patrolling.
"Community safety is a community responsibility, and we're proud to have the O.P.G. as partners in achieving that," says Chief Troy Cooper. "As we do with other established community watch groups, we will continue to provide support in whatever way we are able."
ATTACHMENT: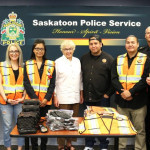 (Click to view full size)