June 27, 2019 6:31 PM




Saskatoon Police Service are happy to report that Anowara Begum has been located and is back with her family. A member of the Public had seen her walking in the 700 Block of Avenue M South and then called the police to attend.

Saskatoon Police Service wish to thank the Public for their assistance.
Saskatoon Police Service are requesting the Public's assistance in locating Anowara Begum 74 years old. She was last seen leaving her house in the 200 Block of Avenue I North on the 27th June 2019 at 0800am for a walk around the block; she has not returned and was reported missing by a family member.
She is described as a women of Bangladeshi descent, 74 years old, 5 foot 6 inches, white hair and black teeth and she was wearing a 3 piece tradition head scarf and dress with sandals. Anowara does not speak any English.
Police are asking anyone that may have information regarding the whereabouts of Anowara Begum to call the Saskatoon Police Service at 306-975-8300 or call Crime Stoppers at 1-800-222-8477.
(Occurrence Number: 19-61905)
ATTACHMENT: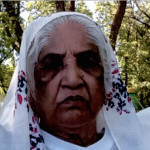 (Click to view full size)