February 13, 2019 4:33 PM




Phoenix Ahpay, the subject of a missing persons investigation, has been located and found to be safe.

The Saskatoon Police wish to thank the media and members of the public for their assistance in this investigation.



February 6, 2019 4:05 PM




Phoenix Ahpay is 5'8" tall and weighs approximately 150lbs. Please disregard the height and weight stated in the previous release.
The Saskatoon Police are asking for assistance in locating a missing 15 year old male.
Phoenix Ahpay has been missing since 5:00 p.m. on February 2, 2019. He is from Regina but was last seen in the 100 block of Avenue T South. Phoenix is described as 5'6" tall and weighs approximately 240lbs. He has dark brown hair and eyes, and squints with his left eye. Phoenix was last seen wearing a red Raptors ball cap, a blue Rangers jersey, black sweat pants and black and white Nike shoes. There are concerns for Phoenix's safety as he may be in a vulnerable state.
A photo of Phoenix is attached for distribution.
If anyone has information on the whereabouts of Phoenix Ahpay, please contact the Saskatoon Police Service at 306-975-8300 or Crime Stoppers at 1-800-222-8477.
(Occurrence Number: 19-11262)
ATTACHMENT: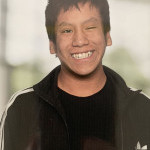 (Click to view full size)