The Saskatoon Police Service is asking for the public's assistance in identifying a man responsible for attempting to rob a pharmacy last month.
Police were dispatched to the 10 block of Assiniboine Drive at approximately 9:30 p.m., January 16, 2019. The suspect was gone when officers arrived. A man had entered the store and given a threatening note to the pharmacist demanding drugs. After staff refused the suspect, he casually walked out of the pharmacy. No weapon was used in the attempted robbery.
The suspect is described as being approximately 30 years old, 6' tall with a medium-heavy build. He was wearing orange coveralls with a black toque and neck warmer at the time of the incident. Police have reason to believe he may be responsible for other recent pharmacy robberies.
Security footage of the suspect entering the store has been posted to the SPS Facebook page. We would encourage you to view the footage. If you recognize this man or have any information on this incident, please contact the Saskatoon Police Service at 306-975-8300 or Crime Stoppers at 1-800-222-8477.
(Occurrence Number: 19-5788)
ATTACHMENT: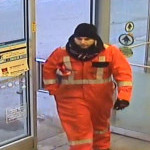 (Click to view full size)