Saskatoon Police are asking for public assistance in identifying suspects and a vehicle involved in a recent break and enter and assault.
At approximately 4:50 p.m., January 6, 2021 two unknown males forced their way into a home in the 300 block of Vanier Crescent. Inside, they assaulted and threatened the three occupants before one victim was able to run to a neighbour's house for assistance. The suspects also attempted to steal several items before fleeing the area. The victims did not suffer physical injury.
The first male suspect is described as 6' in height, with a thin build. He was wearing a black hoodie and black pants. The second male suspect is described as an Indigenous male, 5'11" - 6' in height. He was wearing a high-visibility jacket and black pants.
An image is attached of what is believed to be the suspect's vehicle. It is believed to be a quad-cab Dodge truck.
(Occurrence Number: 21-2396)
ATTACHMENT: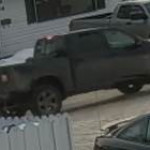 (Click to view full size)