River Patrol Detail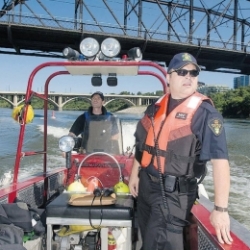 Saskatoon Police members will be partnered with members of Saskatoon Fire and Protective Services again this summer focused on providing both a visible and an enforcement presence on the South Saskatchewan River. With the increase in recreational users on the river it is important to insure everyone is obeying the rules and operating their pleasure crafts in a safe manner.
The Saskatoon Police Service River Patrol Detail underwent training this spring provided by Transport Canada's - Office of Boating Safety. The River Patrol Detail will be out insuring that rules and regulations are followed as they pertain to the operation of small vessels and pleasure crafts. Working alongside Saskatoon Fire and Protective Services members, who will be providing the vessel, the River Patrol Detail will be checking to make sure all pleasure craft users are properly registered and carrying all the necessary equipment for safe boating.
The Detail will also be making sure that alcohol or other drugs are not being mixed with recreational boating.
For more information on pleasure craft equipment, rules and regulations please visit:
http://laws-lois.justice.gc.ca/eng/regulations/SOR-2010-91/