Chief's Message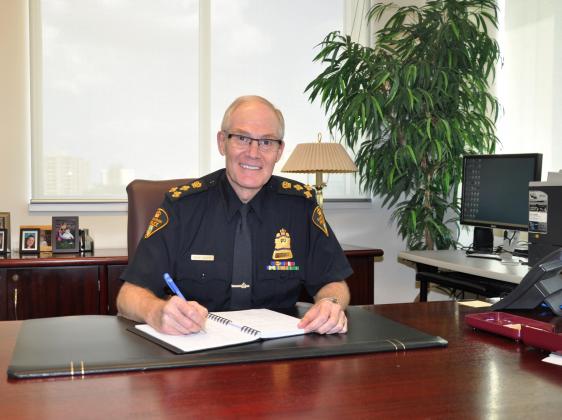 Welcome to the Saskatoon Police Service website, one of many doors to our organization.
The SPS and its men and women are dedicated to reducing crime and victimization in our community. We are a very progressive service working in partnership with a number of agencies, and all levels of government to advance innovative methods to address the challenges and complexities of crime. We also value the well being of our members. We are pleased to have been named a Saskatchewan Top Employer four years in a row.
The following are just a few of the initiatives we are working on;
Launch of the mobile app in 2016

In partnership with Saskatoon Crime Stoppers, an app was developed to increase transparency and openness with the community, while providing important public safety tools, such as direct link with Crime Stoppers TipSoft and the ability to file a Police report. It is a convenient way for the citizens to stay up-to-date and communicate with the Police Service all from the convenience of their smartphone.

Opening of Gender Inclusive Washroom / LGBTQ Training for Employees

Training to demonstrate a greater understanding of the LGBTQ community.
Designating a public washroom gender-inclusive is one small way to strengthen that relationship.

Road to Mental Readiness Training

The SPS partnered with the Prince Albert Police Service and the Province to bring the Road to Mental Readiness Instructor program to the Service. The course was scheduled for June 13 to 17, 2016. Once our instructors are trained we plan to deliver the training to all employees in 2017 and 2018.

Presentation of Police Colours at the BBQ

In July of 2016, we were honoured to be presented with our new official colours by the Lt. Governor. A grant of armorial bearings recognizes the contribution made to the community by the Service. Prior to the Police Service taking charge of them, they were blessed by SPS Chaplain Murray McLellan and Elder Walter Linklater.

Operational Review of the Police Service (as requested by the Board of Police Commissioners)

At the request of the Board of Police Commissioners, an Operational Review of the Service's operational, investigative and administrative areas was conducted in 2016. The Review finished in the late part of 2016 and we are now working with the consultants to review the results and determine any implementations.

Crime

Drugs, specifically methamphetamine, continue to be a driving force behind our property-crime. Stolen Autos are another area of concern as they are increasingly being used in evade Police incidents.
I am privileged to work among such a dedicated group of sworn and civilian members. Our Service truly embraces change and actively seeks new initiatives to assist a growing Saskatoon.
Thank you for visiting our website.
- Chief Weighill
March 1, 2017