Report Impaired Drivers (RID)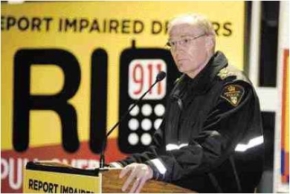 The Saskatoon Police Service would like your assistance to make Saskatoon roads safer with a pilot program called Report Impaired Drivers (RID). This crime prevention project encourages Saskatoon residents to call 911 and report suspected impaired drivers to the police. Drinking and driving continues to be the number one contributing factor in fatal collisions in Saskatchewan. RID serves as a warning that there are now many eyes watching for anyone driving under the influence.
The RID program is spearheaded by SGI, the Saskatchewan Liquor and Gaming Authority (SLGA) and the Saskatoon Police Service with support from Mothers Against Drunk Driving, Students Against Drinking and Driving and Rawlco Radio.
SLGA has spread the word about the program through its nine Saskatoon liquor stores and has asked Saskatoon's 300 liquor permitted establishments to also help spread the word. By working together to raise awareness we can make the streets safer and prevent some of the needless tragedies that occur all too often.
The Saskatoon Police Service has the resources in place to handle the increase in 911 calls generated by RID. It is recommended that drivers have passengers make the 911 call or pull over safely to the side of the road before dialing.
As of early December, we have received over 1,900 calls, leading to 110 impaired driving charges. In addition, we sent 645 warning letters to vehicle owners, advising that their vehicles had been reported to police as possibly being operated by an impaired driver.
10 possible signs of an impaired driver:
Drifting in and out of lanes
Driving unreasonably fast, slow or at an inconsistent speed
Tailgating and changing lanes frequently
Making exceptionally wide turns
Changing lanes or passing without sufficient clearance
Overshooting or stopping well before stop signs or stop lights
Disregarding signals and lights
Approaching signals or leaving intersections too quickly or slowly
Driving with windows open in cold or inclement weather
Driving without headlights, failing to lower high beams or leaving turn signals on
What to do if you see a driver you think is impaired:
Pull over and call 911
State the location
Report which direction the vehicle is travelling
Describe the vehicle as best you can: colour, make, model and licence plate number
Describe what type of driving behaviour is being exhibited
Provide a description of the driver if you can