Cultural/School Resource Unit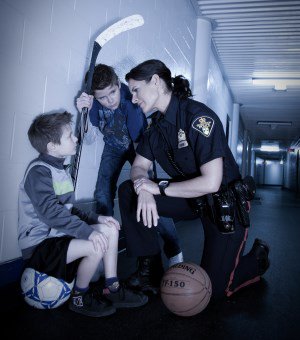 The Saskatoon Police Service School Resource Officer program, in partnership with the community, provides valuable resources to the Public and Catholic School communities. These resources include education, counseling, crime prevention, community relations, and investigations. By creating this partnership, the Saskatoon Police Service strives to provide a safe and secure school community. Six School Resource Officers and four Cultural Resource Officers are assigned to Saskatoon's elementary and high schools. Every officer is responsible for several schools.
The program allows police officers to serve as a daily resource to faculty, students, parents and the community within the school environment. Presentations relating to safety, crime prevention, substance abuse, life skills, the law, and the justice system are provided and School Resource Officers take reports and investigate incidents within the school. In some cases, mediation, warnings, and diversion may bring about a successful resolution to the complaint. In other cases, a criminal charge may result.
The goals of the program are to develop positive attitudes and relationships between youth and police; provide support to school administrators, counselors, and teachers; be a resource for the school community in the areas of law, the police role in the community, and legal consequences; liaise with other sections of the Saskatoon Police Service, share information and provide assistance when required; help create a safe school environment; and reduce crime within the school community
School Resource Officers serve as positive role models to students and school staff. They establish and maintain open lines of communication with students, parents, and school staff. They reduce crime through education, enforcement and personal interaction with students and staff by becoming involved in school activities and programs.
Silhouettes for Safety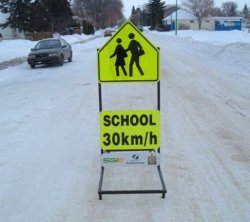 Silhouettes for Safety is a program initiated by the Saskatoon Police Service and sponsored by SGI to remind drivers to slow down in school zones. It features metal speed zone signs placed strategically in school zones, right in the center lane of traffic where drivers can't miss them.
The school zone signs were constructed by Saskatchewan Association of Rehabilitation Centres (SARC), Saskatchewan Abilities Council and The City of Saskatoon sign shop. The signs are placed at each end of the school zone by a school official at the beginning of the school day and removed again at the end of the day.
This project addresses the issue of speed management, where Saskatoon drivers fail to identify school zones and adjust their speed accordingly. These drivers are not only committing a speed violation, they are also decreasing the safety of the students, parents, teachers and citizens that are using these school zones. In other cities, these strategically placed school zone signs have been completely effective.