Community Police Academy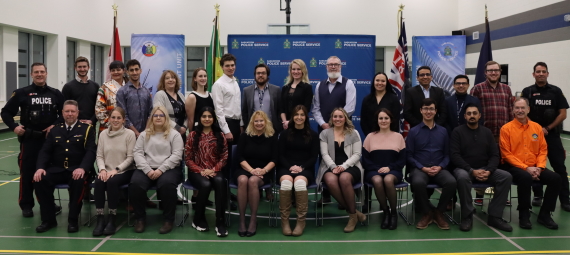 The goal of the Community Police Academy (CPA) is to give community members a better understanding of the Saskatoon Police Service through information and education. During the 13-week course, participants will hear from SPS members from a variety of different units. Theses members will provide an in-depth look into a specific unit, and discuss their roles and responsibilities of the job. Not only will participants hear first-hand from these front-line workers but they will also have the opportunity to observe real Police exhibits, try on equipment and experience what it is like to be an officer...for a few hours; Each participant will get a chance to join a Patrol Officer for a ride-along or a sit-in with a Detention Officer. The course will conclude with a graduation ceremony in December.
It is hoped that this approach will develop positive interactions between the public and the Police, and help to further educate community members through participants sharing their experiences. This falls in line with the objectives of the CPA which are:
To promote the Saskatoon Police Service with the citizens of Saskatoon.
To provide information and education on the Saskatoon Police Service to the Saskatoon community.
To provide feedback for problem solving by identifying concerns expressed by participants.
To provide an ongoing forum for the community on the functions of the Saskatoon Police Service on safety and crime concerns, which will aid in problem solving and community policing.
To provide orientation training to Saskatoon Police Service volunteers.
Course Details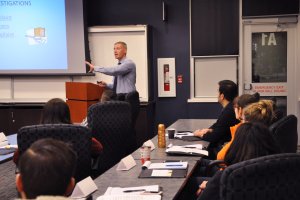 Participants of the Community Police Academy are members of the Saskatoon community from all walks of life. Each class will have representation from a variety of Saskatoon communities, businesses and organizations, volunteers and the general public.
The 13 week course runs from September to December, with classes held on Wednesday evenings from 6:30 p.m. – 9:00 p.m. The sessions are held in the Community Room in the Saskatoon Police Service Headquarters; 76 - 25th Street East, Saskatoon. Applicants must be 18 years of age or older. An informal record check will be performed by SPS staff prior to approval. A large time commitment is necessary as candidates will be required to attend a minimum of 10 of the 13 sessions to officially graduate.
How To Apply
Registration for the 2023 Community Police Academy is now closed.
For questions regarding your application or the 2023 CPA please contact cpa@police.saskatoon.sk.ca
CPA Background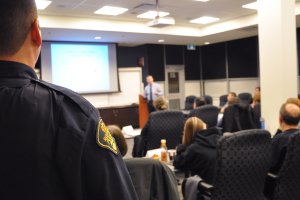 The first Community Police Academy held in Saskatoon was on February 6, 2002. The graduates of Class #1 proved that the citizens of Saskatoon are very excited to learn more about their Police Service. The concept of a Community Police Academy originated in England in 1977 when the Devon and Cornwell Constabulary in Middlemoor, Exeter began "Police Night School." In 1985 the Orlando, Florida Police Department laid claim to the first North American "Citizens' Police Academy," while the Regina Police Service's Academy became a Canadian first. These Police Services, along with many others throughout the years, have enjoyed a great deal of success through hosting a Community Police Academy.
Contact
Community Police Academy Coordinator:
Constable Jeff Nachtegaele
Community Liaison Officer
306-975-2296
cpa@police.saskatoon.sk.ca