Community Police Academy
Community Police and Fire Academy Age-Friendly Engagement
When it comes to the safety of adults, 65 and older, the Saskatoon Police Service and the Saskatoon Fire Department, in partnership with the Saskatoon Council on Aging, are putting the focus on prevention. And they're doing this through a fun, innovative age-friendly program called the Community Police and Fire Academy.
This new collaborative venture aims to empower and educate older adults by providing information about safety and security issues that will help them live safely and independently.
Participants will gain valuable knowledge about the police and fire services such as: home and personal security, fraud prevention, internet safety, traffic safety, elder abuse, K-9 policing, emergency preparedness, fire safety, fall prevention, the 911 system and how to report a crime.
The Community Police and Fire Academy is an eight week program beginning April 17, 2019 and ending on June 5, 2019. The 2.5 hour sessions will be held on Wednesday mornings between 9:30 am and noon in the Community Room of the Saskatoon Police Service (76 25th Street East) or the Community Room of Fire Station No. 3 (2613 Clarence Avenue South).
Enrollment is limited to 25 participants and is free to attend. Applicants must be 65 years or over, live in the Saskatoon area, commit to attending all sessions and have an interest in learning more about the police and fire services here in Saskatoon. Applicants are encouraged to fill out the application completely, including why they would like to attend and how they will be able to share the knowledge they gain with our community.
Application Instructions:

Deadline to apply is April 5, 2019
If you have any questions, please contact the Community Police and Fire Academy Coordinator:
Constable Dawn Epp
Community Liaison Officer
306-975-8032
cpfa@police.saskatoon.sk.ca
Community Police Academy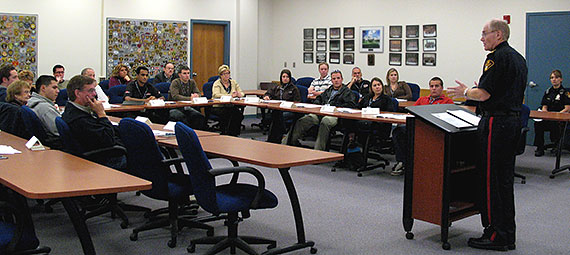 The Community Police Academy is a 13 week course beginning Wednesday, September 4, 2019 with sessions running subsequent Wednesday evenings from 6:30 - 9 p.m. until Wednesday December 4, 2019. The sessions are held in the Community Room at the Saskatoon Police Service Headquarters, 76 - 25th Street East, Saskatoon. In addition there is a ride-along option with a Patrol member, and a sit-along in Detention or Communication units. The course will conclude with a graduation ceremony in December.
Applicants must be 18 of age or older and an informal record check will be performed by SPS staff prior to approval. A large time commitment is necessary as candidates will be required to attend a minimum of 10 of the 13 sessions to officially graduate.
Application Instructions:

Deadline to apply is July 15, 2019
All successful candidates will be contacted in early August
If you have any questions, please contact the Community Police Academy Coordinator:
Constable Jing Xiao
Community Liaison Officer
306-975-2296
cpa@police.saskatoon.sk.ca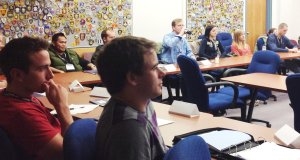 The concept of a Community Police Academy originated in England in 1977 when the Devon and Cornwell Constabulary in Middlemoor, Exeter began the "Police Night School". In 1985 the Orlando, Florida Police Department laid claim to the first North American "Citizens' Police Academy" while the Regina Police Service's Academy became a Canadian first. These police services, along with many others throughout the years, have enjoyed a great deal of success with the Community Police Academy.
The first Community Police Academy held in Saskatoon began February 6, 2002. The graduates of Class #1 showed us that Saskatoon Citizens are very excited to learn more about their police service.
The people attending the Community Police Academy are members of the Saskatoon community from all walks of life. Each class will have representation from a variety of Saskatoon community and business organizations, media, SPS volunteers and civilian staff, and the general public.
Objectives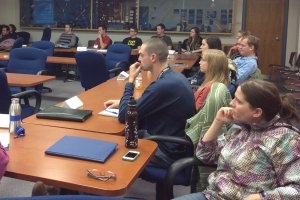 The goal of the Academy is to give the candidates a better understanding of the Police Service through information and education. It is hoped that this approach will develop more interactions between the participants and the police. This falls in line with the objectives of the Community Police Academy, which are:
To promote the Saskatoon Police Service with the citizens of Saskatoon.
To provide information and education on the Saskatoon Police Service to the Saskatoon community.
To provide feedback for problem solving by identifying concerns expressed by participants.
To provide an ongoing forum for the community on the functioning of the Saskatoon Police Service on safety and crime concerns which will aid in problem solving and community policing.
To provide orientation training to Saskatoon Police Service volunteers.