Lobby Management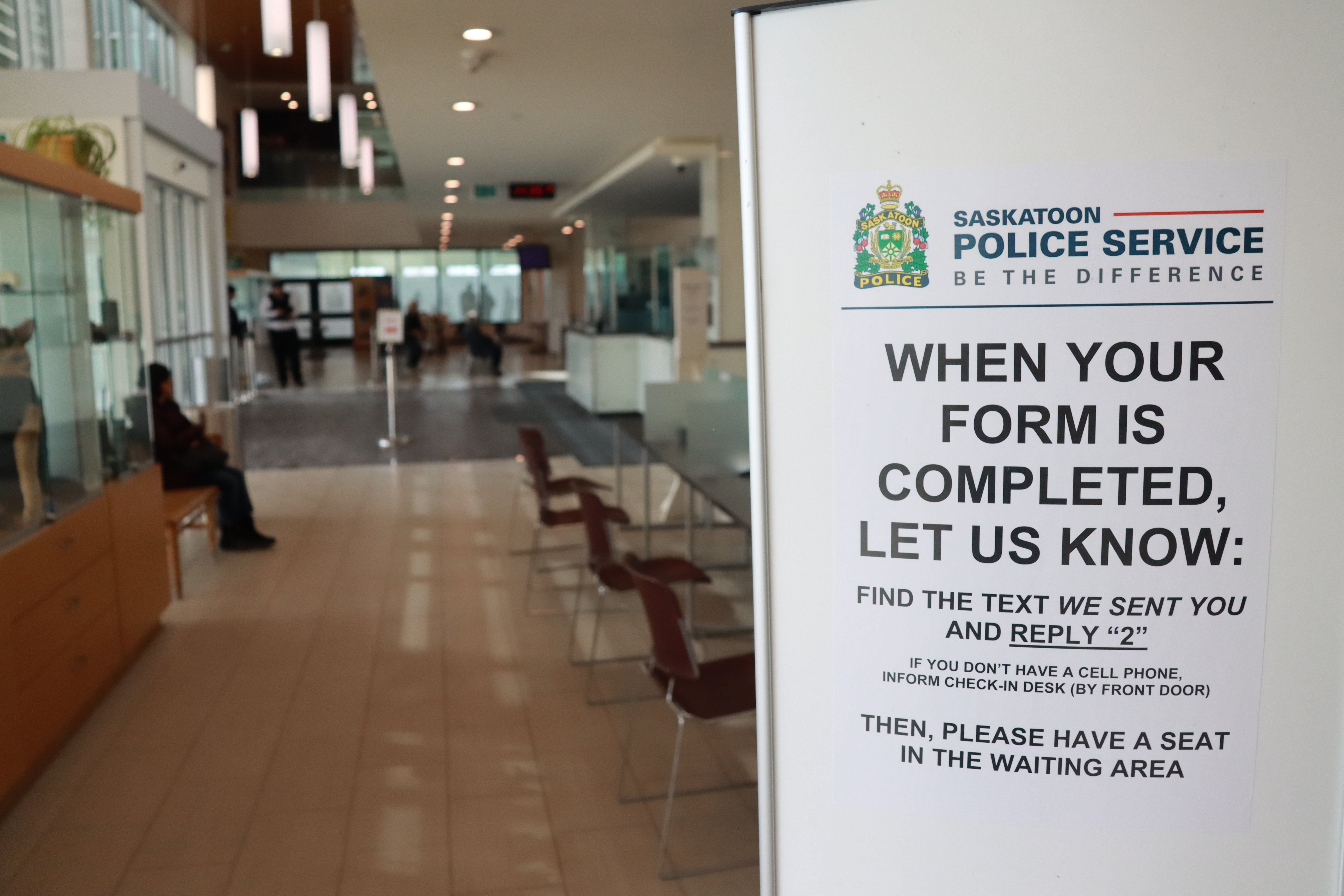 The Saskatoon Police Service now offers a lobby management service (LMS) at SPS Headquarters. Using this technology, we are able to direct visitors where they need to go in a timely manner and provide a better waiting experience.
In order to get in line for a service in the lobby, you must join the line virtually or in-person. If you do not have a cell phone, cell phone data, or do not want to provide your phone number to receive alerts, you must join the line via the on-site Commissionaire when arriving at SPS HQ and wait in the lobby.
You have the option of virtually joining the line from anywhere, using the links above. Once you are in line, you will receive text messages notifying you of your place in line and allowing you to manage it. This includes allowing others to be served before you if you're not yet ready, or cancelling your place in line altogether.
Frequently Asked Questions:
Which areas of the Service Centre will be implementing the lobby management service (LMS)?
General police reporting and Criminal Record Checks launched the new lobby management service (LMS) on March 14, 2023.
How do I join the line?
Visitors to SPS Headquarters can join the different lines by speaking with the on-site Commissionaire or by scanning one of the QR codes located in the lobby.
You may also visit the links above to join the line from home.
How do I know my place in line?
If you choose to include your cellphone number when getting in line, you will receive automated SMS messages from SPS providing your number in the line, estimated wait time, and allow you to manage your place in line.
You will only receive the automated SMS messages from the Saskatoon Police Service while you are in a virtual line. Messages will stop once you have been helped and have left the queue.
What if I don't have a cell phone?
Not everyone has access to a cellphone, or they may not have a data or texting plan on their device.
If you don't have a cellphone or don't wish to use your cellular data/text plan, we ask that you speak to the on-site Commissionaire as soon as you arrive so you can join a line. The Commissionaire will provide you with your number in line, and direct you to the correct area.
Each waiting area will have a nearby lobby display for visitors to monitor their wait status.
Do I have to stay in the lobby to keep my place in line?
If you provide a cellphone number when getting into a line, the automated SMS messages will keep you up to date on where you are in line. You may choose to leave the Service Centre if you wish – your place in line is still yours. You will receive a message asking you to return to SPS when it's nearly your turn.
You also have the option to delay your turn if you cannot get back in time, or cancel if you wish to return another day.
Will my personal information be protected?
All visitor information is anonymously displayed and removed from the system after 60 days.
What if I don't want to disclose my reason for attending the Service Centre?
You are under no obligation to disclose your reason for attending to the on-site Commissionaire. We ask that you simply tell the Commissionaire that you are here for a General Police Report.
Do I have to use the new system to get help at SPS?
To ensure fairness for everyone in line, all visitors to SPS who need to file a police report or apply for a record check will be required to use the LMS.
We understand that change can be difficult, and we appreciate every visitor's patience as we work to improve your experience at the Saskatoon Police Service.
Which languages does the LMS support?
The lobby management service messages are currently available in English. We may explore other options in the future depending on visitor feedback.