Criminal Intelligence Section
This section reports to the Investigative Support Inspector of the Criminal Investigations Division. It is responsible for providing support to SPS sections and their members or other police agencies.
Many of the units within this section are integrated with the RCMP.
Combined Forces Special Enforcement Unit (CFSEU)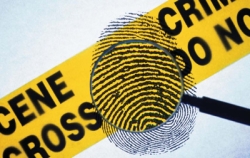 The Combined Forces Special Enforcement Unit is a provincial funded unit responsible to investigate organized crime activities within the City of Saskatoon and surrounding areas.
Saskatoon Police Service Drug Unit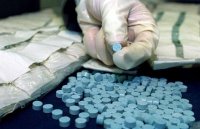 The Saskatoon Police Service Drug Unit is responsible for the proactive investigation and enforcement of all provisions under the Controlled Drugs and Substances Act.
The primary mandate of the Drug Unit is to gather intelligence, conduct quality investigations for prosecution and take enforcement action on all drug offences within the City of Saskatoon. The Drug Unit will investigate individuals involved with street level drug trafficking as well as those persons or organized groups responsible for large scale distribution, importation and manufacturing of illicit drugs in our city.
Drug Unit Investigators take pride and an active role in providing educational lectures to our community partners and stakeholders on current street drug trends and drug awareness.
Our members work closely and share intelligence with other municipal law enforcement partners both provincially and nationally including the RCMP and Canada Border Services Agency.
The Saskatoon Police Service maintains a trained and qualified Clandestine Lab Response Team which is responsible for the investigation, processing and dismantling of any matters or events related to Clandestine Labs in Saskatoon.
Integrated Proceeds of Crime (IPOC) Unit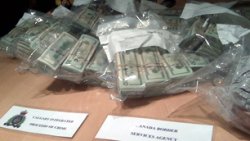 Since September 2009 the Saskatoon Police Service has been a partner in the 'F' Division RCMP Integrated Proceeds of Crime (IPOC). Integrated Proceeds of Crime sections in Saskatchewan are located in Regina and Saskatoon and are comprised of partners from the following agencies:
Royal Canadian Mounted Police (RCMP)
Regina Police Service (RPS)
Saskatoon Police Service (SPS)
Public Prosecution Services of Canada (PPSC)
Canada Border Services Agency (CBSA)
Seized Property Management Directorate (SPMD)
Canada Revenue Agency (CRA)
Forensic Accounting Management Group (FAMG)
The Saskatoon IPOC Section's mandate is to investigate proceeds of crime offences and money laundering offences, as well as identify, seize, and restrain proceeds of crime as they pertain to designated offences. The legislation provides judicial procedures for the pre-trial seizure or restraint and eventual forfeiture. The transportation, transmission, alteration, disposal of, concealment, and converting of currency is an offence of money laundering. Proceeds of crime are the ill-gotten gains obtained from criminal activity.
The Integrated Proceeds of Crime initiative's goal is to contribute to the disruption, dismantling and incapacitation of targeted organized criminals and crime groups.
Internet Child Exploitation (ICE) Unit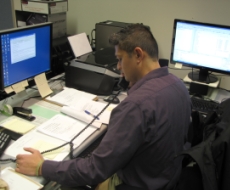 The Saskatoon Internet Child Exploitation (ICE) Unit is the central branch of the Provincial ICE Unit which is integrated with Prince Albert Police Service, Regina Police Service and the RCMP.
The ICE Unit is responsible for investigating files relating to possession, production, and the distribution of child pornography as well as internet luring. Because the internet is borderless, the SPS ICE Unit works closely with our Provincial partners as well as other provincial ICE Units, International Police agencies and agencies such as the National Center for Missing and Exploited Children and the National Child Exploitation Coordination Center.
Technological Crime Unit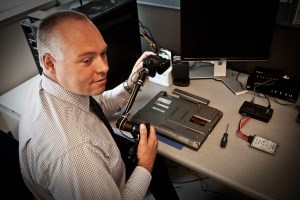 Computers can be used to commit a crime, or have crime related evidence stored somewhere on the computer's hard drive.
Computer forensics involves the examination of computer hard drives, and other storage media, for evidence related to illegal activities by computer users.
Computer forensics uses defined procedures to thoroughly examine a computer system using software and tools to extract and preserve evidence of criminal activity. Proper computer forensic procedures allow an examiner to not only acquire the data, but also to be able to reliably report on the findings. An examiner will be able to prove beyond a reasonable doubt the data was accurately acquired from a particular computer.
The primary duty of the Technological Crime Unit is performing Forensic Computer Analysis on computers seized by all sections of the Service. The Unit is staffed by one Sergeant.
On average it takes about 3 weeks to conduct an analysis on one computer.
The Technological Crime Unit also assists other officers with capturing and editing of digital video and still surveillance images, assistance with internet and email related issues.
Guns and Gangs Unit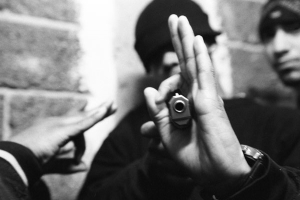 The Guns and Gangs Unit is dedicated to disrupting and dismantling gangs, and address violence through prevention, intervention and enforcement. The Unit is an expansion of the former Street Gang Unit. It will deal with serious habitual offenders and high-risk offenders in conjunction with the Saskatoon Integrated Drug Unit and the Combined Special Forces Enforcement Unit.
Integrated Organized Crime North (IOCN) Unit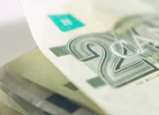 This unit is comprised of two teams whose members include SPS and RCMP officers who focus on organized crime.
Special Investigations Unit (SIU)
The Special Investigations Unit is dedicated to assisting other units and agencies, upon request, with their investigations of major files.
Integrated Intelligence Unit
The Integrated Intelligence Unit is responsible to gather information on organized groups, known or suspected criminals involved in criminal activities.