Deputy Chiefs
Deputy Chief Cam McBride – Operations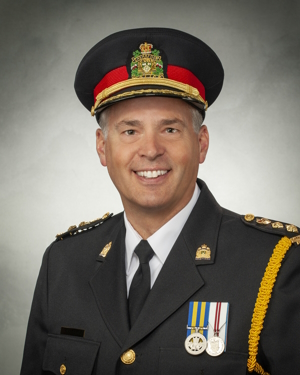 Deputy Chief Cam McBride is a 26-year member of the Saskatoon Police Service, and is the Deputy Chief of Operations. D/C McBride was born in Outlook, Saskatchewan and grew up in Saskatoon. He graduated from Aden Bowman Collegiate, and received his degree in Psychology from the University of Saskatchewan. In January of 1997, D/C McBride was taken on strength by the Saskatoon Police Service, and spent his first several years in Patrol. Since then, he has worked in Traffic, the Forensic Identification Unit, Human Resources Division and was a long-time member of the Explosive Disposal Unit (EDU). With a passion for the EDU, he assisted in creating standardized bomb threat protocols for the Public School Division in 2015, and provided training to administrators.
D/C McBride has taken the Critical Incident Command Course at the Canadian Police College, and holds memberships on the Saskatchewan, Canadian and International Associations of Chiefs of Police. In 2016, he participated in a Lean Event to focus on finding efficiencies in the process of prosecuting suspects from the time of arrest through the court process. Recommendations from this Lean team were then implemented which streamlined the process. D/C McBride led the Service in the research, planning and creation of the Community Mobilization Unit (CMU). The CMU patrols near the city's safe consumption site, with a specific focus on the neighborhood which involves close coordination with stakeholders and community-based organizations.
During his career, D/C McBride has worked diligently to build and strengthen the community through both his career and personal endeavors. Professionally, he has built strong, working relationships with community-based organizations, having sat on numerous boards and committees including the Safe Community Action Alliance Operations and Administrative Committees, the Safe Consumption Site Community Safety Advisory Board, EGADZ Youth Centre, the Street Activity Sub Committee and the Downtown Safety Committee. D/C McBride and his wife developed a presentation designed to promote strong and healthy marriage relationships within the police community. The pair present for each new police class during in-service training. He has also dedicated personal time, working with his wife to promote and volunteer for the d3h Foundation. The mandate of this non-profit organization is to identify families, and specifically children in need, and fundraise with community-based activities to provide assistance to these families. An example of the d3h Foundation work is the establishment of a small orphanage in Bacoor, Cavite, Philippines in 2015, that ensures children are cared for and have access to education. In 2022, D/C McBride was a recipient of the Order of Merit of the Police Forces.
As an avid outdoorsman, D/C McBride has always had a love for hunting and fishing. He says his appreciation for the members of SPS continues to grow as his perspective widens. Through hard work and shared experiences, D/C McBride says the members of the Service have become more like a family to him, rather than co-workers. "It is only this relationship and trust that enables us to overcome the inherent difficulties within policing. I am honored to serve Saskatoon, with pride, and am committed to play a role in building a strong and safe community for everyone."