Crime Free Multi-Housing (CFMH)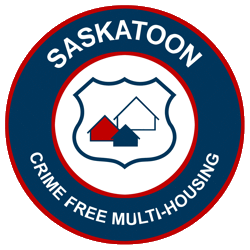 CFMH works in partnership with building owners, property managers, tenants, community partners, and other Saskatoon Police units to reduce the likelihood of crime in multi-family buildings. CFMH reduces crime incidents by approximately 25% in the buildings certified in the program. Contact Crime Free Multi-Housing – Tel: 306-975-8385 or CFMH@police.saskatoon.sk.ca
Find a CFMH Certified, safer home.
Select the area of Saskatoon where you want to live.
Click on
for information about a CFMH certified rental building.
How does the CFMH program work?
"This program has been a great eye-opener. It is amazing how I'm looking at our building with a whole other perspective."

TM, Property Manager
This crime prevention program works by offering training, inspections, and on-going communication and support. Here are some of the effective strategies used. CFMH - How It Works
There are three steps to become a CFMH Certified property.
1. Phase 1: Building Security Training
Property managers, maintenance staff or building owners complete the Phase 1 Building Security Training. During this interactive training rental industry staff learn tips from community partners.
2. Phase 2: Inspection
During this free (daytime and nighttime) inspection, CFMH staff ensure your building's security features meet nine key requirements. CFMH - 9 Point Inspection
3. Phase 3: Tenant Community Event
Tenants who are familiar with their neighbours in the building are less likely to tolerate illegal activity, and more willing to report any suspicious behaviour. CFMH Community Events lead to a safer community as they offer a chance to meet and learn from a Saskatoon Police officer, the property manager, and other tenants.
Resources & Contacts for Renters and Property Managers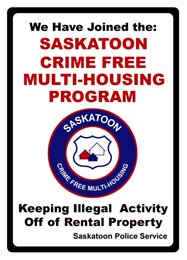 CFMH Benefits Include
Free advertising that helps tenants find CFMH Certified buildings;
Affordable, relevant training and information to aid in managing safer properties;
Daily updates on any crime that affects your buildings (including property damage, noisy parties, serious crimes, etc.); and
Access to the Saskatoon Police Service Crime Free Addendum: Tenants who sign this legal document make a commitment to live crime-free within your building.