Gender & Sexually Diverse Community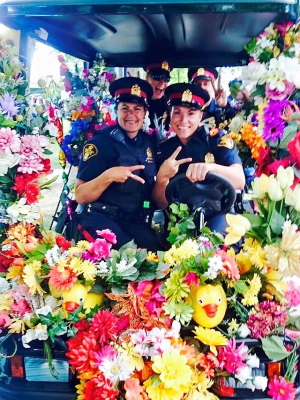 Saskatoon's Gender and Sexually Diverse community is proudly growing every year. Members of that community still face discrimination in many sectors of society. Acceptance and inclusion is growing, as the public becomes more educated and informed about the community and the people which it is comprised of. They are our family members, neighbours, co-workers, nurses and teachers or politicians. They might be the clerk at the grocery store or the officer walking the beat. Gender and Sexually Diverse people make significant and positive contributions to the quality of life in Saskatoon.
Unfortunately, 2SLGBTQ+ people still experience a higher rate of hate-motivated crimes compared to those outside of that community, but due to fear of stigmatization, these crimes are generally under-reported. The Saskatoon Police Service is working to develop mechanisms to record and track hate-motivated and bias crimes, and encourage 2SLGBTQ+ people to file a report if they have been victimized.
The Gender and Sexually Diverse members of the Saskatoon Police Advisory Committee On Diversity(SPACOD) work to build understanding, trust and open communication between 2SLGBTQ+ people and the Police. They provide education to the SPS on the realities they face belonging to that community in Saskatoon, and on an international level. SPS members often participate in events held in the Gender & Sexually Diverse community. Coming together in these ways is helping to strengthen the relationship between 2SLGBTQ+ people and law enforcement. In 2016, SPS opened a public gender-neutral washroom in the lobby of Headquarters. OUTSaskatoon has presented to SPS members, including the Saskatoon Police Executive Team, on the history of Gender and Sexually Diverse communities and best practices in policing. The training that SPS sworn and civilian members receive focuses on learning gender identity/expression, sexual orientation and the history of Police and 2SLGBTQ+ people. Best practices in policing are taught, including scenario-based learning.
Gender and Sexually Diverse people are at a higher risk of becoming a victim of domestic violence by being physically, mentally, financially, or sexually assaulted, threatened or harassed. SPS members have been educated on same-sex domestic abuse and 2SLGBTQ+ people are encouraged to report such incidents. If you feel you have been discriminated against or mistreated because of your sexual orientation or gender identity, please call 306-975-8326.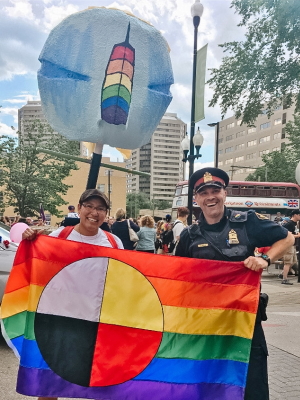 The Saskatoon Police Service recruits members from all walks of life and welcomes diversity. To learn more about a career in policing, visit our Recruiting page. For more information on Gender and Sexually Diverse community events in Saskatoon, how to access resources, how to be an ally, or how to create safer spaces, visit www.outsaskatoon.ca
"It Gets Better" video - produced by the Royal Canadian Mounted Police (BC)
"It Gets Better" video - produced by the San Francisco Police Department