LGBTQ2S Partnerships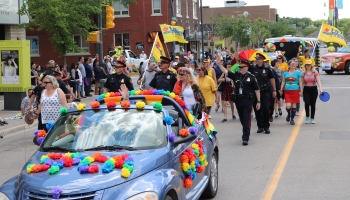 Saskatoon's LGBTQ2S (lesbian, gay, bisexual, transgender, queer, two-spirit) community is proudly growing every year. But LGBTQ2S people still face discrimination in many sectors of society, although that discrimination is lessening as society accepts that LGBTQ2S people are really no different than the rest of the population. They are family members, neighbours, co-workers, nurses and doctors, our teachers, the clerk at the grocery store or the police officer walking the beat. LGBTQ2S people make significant and positive contributions to the quality of life in Saskatoon.
Unfortunately, LGBTQ2S people still experience a higher rate of hate crimes than does the average citizen, but because of the fear of stigmatization, these crimes are generally under-reported. The Saskatoon Police Service is working to develop mechanisms to record and track hate and bias crimes, and encourage LGBTQ2S people to file a report when they have been the victim of a hate or bias crime.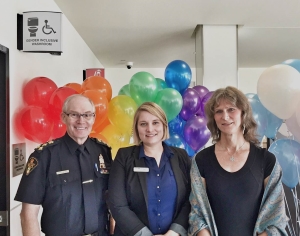 The LGBTQ2S members of the Saskatoon Police Advisory Committee On Diversity(SPACOD) work to build understanding, trust and communication between the LGBTQ2S community and the Police. They provide education to the SPS on the facts of being lesbian, gay, bisexual, transgender, or queer as well as on numerous issues that LGBTQ2S people face in our communities. Officers from the SPS often participate in LGBTQ2S community based events which is helping to improve communications and strengthen relationships between the LGBTQ2S community and the Police.
Chief Clive Weighill with Executive Director of OUTSaskatoon, Rachel Loewen Walker and Miki Mappin, a Trans Activist, officially opened a public, gender-neutral washroom in the lobby of the SPS Headquarters on September 22, 2016.
In November 2016, OUTSaskatoon, Saskatoon's Queer Community Centre, presented to the Saskatoon Police Executive Team on the history of LGBTQ2S communities and best practices in policing. In March of 2017, the presentation was made again, this time, to members of the SPS. The training that SPS officers and staff receive focus on learning the basics of gender, sexual orientation, and gender expression as well as the history of the LGBTQ2S community and policing, best practices in policing, and scenario based learning.
LGBTQ2S people can also be the victims of domestic violence by being physically, verbally, financially, emotionally or sexually assaulted, threatened, harassed or stalked by a partner or ex-partner. The SPS members have been educated on same-sex domestic abuse and LGBTQ2S people are encouraged to report such incidences. If you feel you have been discriminated against or mistreated because of your sexual orientation or gender identity, please call 306-975-2278.