Criminal Record Checks
Applying for a Criminal Record Check/Vulnerable Sector Check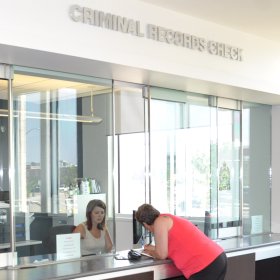 Apply Online
You can now apply for a criminal records check online at https://policesolutions.ca/checks/services/saskatoon
Please note: online record checks may not be suitable for everyone. Please review the information carefully to determine if this is the right choice for you.
Apply In Person
You can apply in person at our Criminal Records Check office located at:
76 25th Street East
Saskatoon, SK
8:00am - 4:00pm, Monday-Friday (Closed weekends & stats)
No Appointment Required
Email: recordcheck@police.saskatoon.sk.ca
Join the Criminal Record Check Line
For more information about the lobby management services in place at SPS, please visit the Lobby Management page.
Application Information
You must be a current resident of Saskatoon and provide proof of address upon your request (ie: drivers licence, bank statement, utility bill).
* Applicants residing outside of Saskatoon must have their Criminal Records Check completed by the RCMP in the jurisdiction where they reside.
Complete a Criminal Record and Vulnerable Sector Check Application . Forms may be completed at SPS Headquarters or prior to attending.
You will require two, physical pieces of government-issued ID.
The same last name must be on both pieces of ID.
One ID must include your photograph, such as a passport or driver's licence.
Photocopies or pictures of the ID are not accepted.
Fees:
Records Check with the Vulnerable Sector - $75
Records Check without the Vulnerable Sector - $45
Cash, Interac, Visa, MasterCard or American Express are accepted for payment.
Volunteers will be required to submit a "volunteer letter" from the organization seeking your assistance. This letter must be on original letterhead and must have an original signature from the organization representative. E-mailed, faxed or photocopied letters will not be accepted. If you do not have the required letter from the organization then the normal application processing fees will apply.
Processing time will vary from applicant to applicant based on the length of time and location of a previous residence. A police records check from another agency will inevitably increase the amount of time required to process your local criminal records check. Processing requests to other police agencies could delay the completion of your criminal records check for approximately 2 weeks.
*As of April 1, 2018 we can no longer run Criminal Record Checks for Rural Route Saskatoon addresses. You must be a resident of the city of Saskatoon in order for us to process your check with a civic street address. Please attend to the agency that polices your area:
RR 1, 2, 3, 4, 7: Warman RCMP, Delisle RCMP, Martensville RCMP
RR 5, 6, 8, 9: Saskatoon RCMP
Please contact these agencies for their hours of operation
If your check requires fingerprinting to be completed, please note that this service is only offered from 8am – 4pm , Monday to Friday
Vulnerable Sector Search
If your employment or volunteer activity will cause you to be in a position of Trust or Authority over a Vulnerable Persons (i.e. children, seniors, or people with disabilities), the "Consent for Persons Applying for Positions within the Vulnerable Section" needs to be completed on our Criminal Record and Vulnerable Sector Check Application .
The Vulnerable Sector search can only be run for employment or volunteer purposes within Canada.
The Vulnerable Sector search cannot be run for applicants under the age of 18 years old.
This search may require the submission of fingerprints to Ottawa. This search is based solely on the applicants' date of birth and gender.
For information on the vulnerable sector search and process:

Please note that the Saskatoon Police Service Criminal Record Check process requires a letter from the employer to detail why the position will require a vulnerable sector search. Section 6.3 of the Criminal Records Act stipulates that a vulnerable sector search must only be done relative to a specific position. To meet the legal requirements for a vulnerable sector search, the position must cause the person to have trust or authority over a child or vulnerable person. If the position does not meet the legal requirements for a vulnerable sector search, it is illegal for the Saskatoon Police Service to conduct one.