RID (Report Impaired Drivers)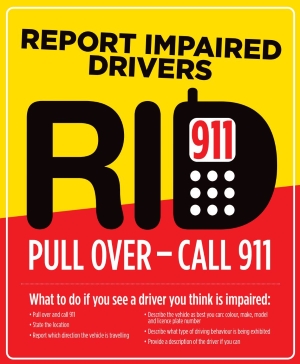 The Saskatoon Police Service needs your help to make our roads safer with the RID program – Report Impaired Drivers. This crime prevention resource encourages people to call 911 and report suspected impaired drivers to the police.
The RID program began as a pilot project in 2010 and was spearheaded by SGI, the Saskatchewan Liquor and Gaming Authority (SLGA) and the Saskatoon Police Service with support from Mothers Against Drunk Driving (MADD) and Students Against Drinking and Driving (SADD). Since then, the program has continued with great success.
Drinking and driving continues to be the number one contributing factor in fatal collisions in Saskatchewan. RID serves as a warning that there are many eyes watching for anyone driving under the influence of drugs or alcohol. Before you make that call to 911, please ensure you're using a hands-free device or you're safely pulled over on the roadside.
What to do if you see an impaired driver:
Pull over and call 911 or use your hands-free device
State the location you last saw the impaired driver
Report which direction the vehicle is travelling
Describe the vehicle as best you can: colour, make, model, licence plate
Describe what type of driving behaviour is being exhibited
Provide a description of the driver if you can
By working together to raise awareness, we can make Saskatoon roads safer and help prevent the needless tragedies that occur all too often.