Online Bicycle Registration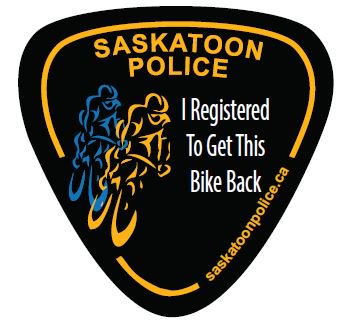 Recording your bike's serial number and other identifying information could make the difference in getting your lost or stolen bike back.
In Saskatoon, Police have seen an increase in the number of bikes being stolen. Hundreds of recovered bicycles go to auction each year in Saskatoon because Police cannot identify owners. Bikes and bike parts are actually used as currency in the drug trade. For that reason, the SPS encourages you to record your bicycle information and enter it on our registry. This information is for police use only in the event your bike is lost or stolen.
To assist officers in returning recovered bicycles you can make a police report that includes identifying information such as the:
Make – Trek, Giant, Cannondale, Surly, CCM, Schwinn, etc.
Model
Type – mountain, road, BMX, cruiser, etc.
Colour
Serial Number
Note: If you are registering a bicycle that has been stolen, please file a theft report instead.
Register Here
To unregister your bicycle, you must leave an online supplemental report. Reference your occurrence number that was initially provided to you upon registration. If you cannot locate/recall the occurrence number, please call 306-975-8300 for officer assistance.
Tips for Securing Your Bike
Use a high quality lock – don't rely on a cable lock.
Lock a wheel and the frame to a secure structure. Don't lock only the wheel as they can be easily removed from the bicycle.
Most bicycles parked outdoors are not secured properly. Never leave your bike outside overnight.
Never leave your bicycle unlocked in your garage, bike cage, balcony or on your vehicle. Many bikes are taken from these locations.
Adding a secondary lock can enhance the security of your bicycle.
If you find your stolen bicycle for sale online – contact police. Do not attempt to recover the bicycle on your own.