Professional Standards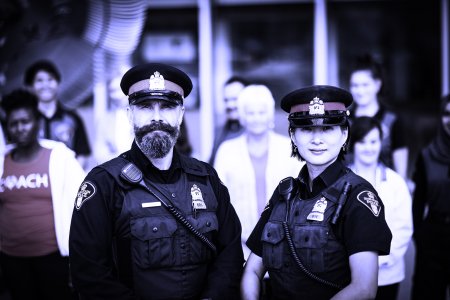 The role of Professional Standards is to respond meaningfully to all public concerns, complaints and matters of internal misconduct, and when directed, to conduct comprehensive investigations in a manner without prejudice that ensures a high standard of integrity.
Anyone with concerns about our policies, service level or actions of a Saskatoon Police Service officer may make a complaint pursuant to The Police Act, 1990 and The Municipal Discipline Regulations, 1991.
The complaint should be specific to the actions of the officer or the police service. Complaints regarding the validity of an officer laying a charge are typically not accepted as police officers are given discretion when it comes to laying charges. The courts are the proper venue to hear evidence pertaining to charges that you may be facing.
It is important to note that it is unlawful to make a false report to Police, and doing so may result in charges.
How can I report my concern or complaint?
Members of the public have a number of options if they wish to report a concern or complaint regarding a member of the Saskatoon Police Service:
Saskatoon Police Service
In-person at the Saskatoon Police Service Headquarters

76 25th Street East
Saskatoon, SK S7K 3P9


By email to professionalstandards@police.saskatoon.sk.ca
By written correspondence

Attn: Chief of Police
Box 1728
Saskatoon, SK S7K 3R6


For more information on the process, please contact Professional Standards at 306-975-3582.
Public Complaints Commission

900 - 3530 Millar Avenue
Saskatoon, SK S7P 0B6
Call toll-free: 1-866-256-6194

Federation of Sovereign Indigenous Nations (FSIN) Special Investigations Unit

100-103A Packham Avenue
Saskatoon, SK S7N 4K4
306-270-5499

Saskatoon Board of Police Commissioners

c/o Saskatoon City Clerk
222 3rd Ave N
Saskatoon, SK S7K 0J5

Saskatchewan Ministry of Justice

1874 Scarth Street
Regina, SK S4P 3V7

Any detachment of the Royal Canadian Mounted Police
What happens after I've reported my concern?
If you reported your concern to the Saskatoon Police Service, it will be investigated and may be resolved informally through the intervention of the officers' supervisor. In other cases, your concern may be deemed to be a Public Complaint and would require you to complete a Public Complaint Form.
All public complaints are reported to the Public Complaints Commission (PCC), a five-person, non-police body appointed by the Government of Saskatchewan. When appropriate, the PCC may assign their own investigator or they may assign a Professional Standards investigator from the Saskatoon Police Service to investigate your complaint.
Regardless of who investigates your complaint, the PCC reviews and concludes all public complaint investigations to ensure they are thorough, fair and unbiased.
For more information about the public complaints process, please visit the Saskatchewan Public Complaints Commission.