Working with New Canadians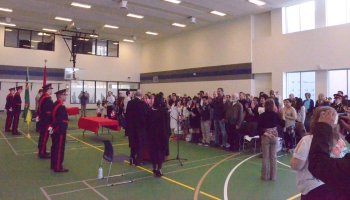 Saskatoon's communities are ever evolving with the frequent arrival of immigrants and refugees from all corners of the globe. These fresh faces bring with them new languages, cultures and traditions to enrich our community. But, for many, the move isn't easy. New Canadians often face challenges with climate, language, housing, employment and the justice system. Saskatoon has various, local organizations that offer services to help achieve a smooth settlement.
These agencies have teamed up with the Saskatoon Police Service as members of the Saskatoon Police Advisory Committee On Diversity (SPACOD). The SPS hosts community service presentations, participates in community events, and provides a wide range of helpful services to the entire community. To aid in this process, all officers go through Cultural Diversity Training to increase their sensitivity and awareness of the needs of all Canadians.
In practice, this means that Saskatoon Police learn
leadership roles of Elders
different aspects and traditions of cultures
effects of racism
how to create an atmosphere of mutual openness and respect between new Canadians and Police
appropriate information to provide new Canadians on pursuing a career with the SPS
participate in English language learning classes/programs for newcomers (at IWS, GGP, SIA and SODS), to provide information on Rights and Responsibilities as a Citizen of Saskatoon, Rules of Driving, traffic bylaws, Personal and Property Safety, Reporting Hate Crimes