Investigative Support Division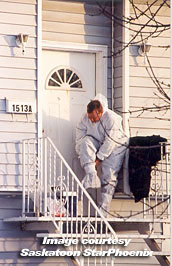 The Investigative Support Division provides specialized support services to all operational divisions within the Saskatoon Police Service and partner agencies. Additionally, various units within the division engage in proactive enforcement initiatives designed to identify individuals and groups who are actively involved in criminal activity. The Division consists of two sections, 12 units with 72 investigative and support personnel.
The members of the Investigative Support Division are responsible for investigating crimes associated with organized crime groups and serious habitual offenders. They also provide valuable support to police operations through surveillance, intelligence gathering and dissemination, crime scene analysis, crime data analysis, computer examinations, drug enforcement, investigation of firearms offences, specialized interviewing and polygraph examinations, and the investigation of child exploitation including internet child exploitation and luring.

Investigators use information obtained from a variety of sources to identify and target individuals and groups involved in criminal activity. The Integrated Intelligence Unit and the Combined Forces Special Enforcement Unit are comprised of Saskatoon Police Service members and members of the Royal Canadian Mounted Police. This partnership fosters a strong working relationship and open communication between police agencies locally, provincially and nationally.

Our investigative personnel receive extensive training at the Canadian Police College, Saskatchewan Police College, and many other learning facilities that offer specialized investigative training.