A man and a woman from British Columbia were arrested and charged by the Saskatoon Police Service Drug Unit on May 20, 2020 in relation to a joint drug trafficking investigation with Regina Police Service.
Earlier this year, the SPS Drug Unit began investigating a man who was believed to be selling methamphetamine in Saskatoon. Through investigation, the suspect was observed travelling to Regina and exchanging items, believed to be drugs, before returning to Saskatoon.
With the assistance of the Tactical Support Unit, a traffic stop was conducted as the vehicle returned to Saskatoon. The two occupants were arrested and charged, and Police seized 4951 grams of methamphetamine packaged in five separate bags (a photo of this seizure is provided). Police also seized $1830 in cash, two smart phones and a Canadian passport.
As a result of the traffic stop, a search warrant was executed at an apartment in the 400 block of Avenue C South, however nothing of evidentiary value was located inside.
A 21-year-old man from Burnaby, BC, and a 21-year-old woman from Port Coquitlam, BC, are both charged with Trafficking Methamphetamine, Possession for the Purpose of Trafficking Methamphetamine and Possession of Proceeds of Crime Under $5000. (Court Info # 991128664)
Three additional persons were charged by the Regina Police Service Drug Unit on May 21, 2020. For information on their investigation, visit: http://reginapolice.ca/2020/05/three-charged-in-drug-trafficking-investigation-with-sps/
(Occurrence Number: 20-41503)
ATTACHMENT: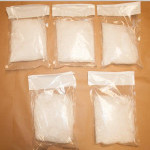 (Click to view full size)