Investigators with the Serious Assault Unit have charged two more women in connection to an incident last week involving forcible confinement.
Two women, ages 25 and 35, are charged with Forcible Confinement, Aggravated Assault, Assault with a Weapon, Possession of a Weapon and Uttering Threats.
The 35 year old woman has been arrested. A warrant has been issued for the arrest of 25-year-old, Mykayla Bearboy. A photo of Bearboy is attached for distribution.
If you have any information on the whereabouts of Mykayla Bearboy, please contact the Saskatoon Police Service at 306-975-8300 or remain anonymous and call Crime Stoppers at 1-800-222-8477.
(Court Info Numbers: 991128789, 991128707)



May 19, 2020 11:32 AM




Two women were arrested yesterday after a third woman was found injured in a home.

At approximately 8:00 a.m., May 18, 2020, Police responded to an apartment in the 300 block of Avenue R South for a reported stabbing. Inside the home, Patrol officers located a 41 year old woman who was bound and injured. She was transported to hospital with serious but non-life threatening injuries. Two female suspects were arrested from inside the home. It was reported that a number of suspects entered the home and threatened the victim with a knife, bound and beat her. The incident was not random in nature.

Two women, ages 32 and 35, are charged with Aggravated Assault, Aggravated Assault with a Weapon, Forcible Confinement, Uttering Threats and Possession of a Dangerous Weapon.

Members of the Serious Assault Unit and the Guns and Gangs Unit continue to investigate. Anyone with any information related to this incident is asked to call the Saskatoon Police Service at 306-975-8300 or Saskatoon Crime Stoppers at 1-800-222-8477.

(Court Info Number: 991128461)
(Occurrence Number: 20-46138)
ATTACHMENT: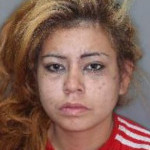 (Click to view full size)