August 10, 2020 9:58 AM




The subject of a missing persons investigation has been located.

Tanner Afseth, who was last seen on July 16, 2020, has been located and found to be safe.

Police wish to thank the public and media for their assistance.



July 22, 2020 3:21 PM




Attached is an additional photo of Tanner Afseth.
The Saskatoon Police are requesting the public's assistance in locating 25 year old, Tanner Afseth.
Tanner was last seen on July 16, 2020. He is described as being 6'4" tall with a slim build and a scar on his right ankle. Tanner has blue eyes and thinning, brown hair with a beard that may be trimmed short. He was last seen wearing a black bunnyhug with a "Turtle Lake" logo on it. Tanner's grey 2005 Nissan Altima is also missing (SK licence plate: 855 IGS), along with his dog, a tricoloured Bernedoodle named "Soma." Police believe Tanner may be travelling to Whitehorse, YT.
If you have any information on the whereabouts of Tanner Afseth, please contact the Saskatoon Police Service at 306-975-8300 or Crime Stoppers at 1-800-222-8477.
(Occurrence Number: 20-70258)
ATTACHMENT: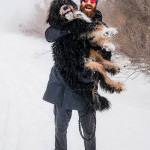 (Click to view full size)