August 5, 2020 9:20 AM




The 39 year old subject of a missing person investigation has been located.

39 year old Lucas Busch was reported missing by family after they last saw him in July. He was located and found to be safe on August 2, 2020.

The SPS would like to thank the media and the public for their assistance.
Saskatoon Police are asking for the public's assistance in locating 39 year old, Lucas Busch.
Lucas has not been heard from since July 16, 2020. His family is concerned as he may be in a vulnerable state.
Lucas is described as being 6' tall weighing 200lbs with short, light brown hair. He has blue/green eyes and wears black-rimmed glasses. One of his legs is covered by tattoos and his other leg has a tattoo of Jiminy Cricket on it. There is also a tattoo of a Japanese symbol on his upper-back.
If you have any information on the location on Lucas Busch, please contact the Saskatoon Police Service at 306-975-8300.
(Occurrence Number: 20-70186)
ATTACHMENT: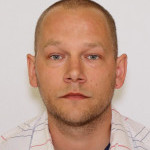 (Click to view full size)