September 4, 2020 12:54 AM




Keliyah Bedard-Tootoosis has been located safe and sound.

The Saskatoon Police Service wishes to thank the public and media for their assistance.



September 3, 2020 5:41 PM




Please see the attached updated photo of Keliyah Bedard-Tootoosis who is still missing.

She now has freshly died hair with blue streaks in the front.
The Saskatoon Police Service is asking for the public's assistance in locating 13 year old, Keliyah Bedard-Tootoosis.
Keliyah was last seen in the 700 block of Childers Crescent at 12:00 a.m., September 2, 2020. There is concern for her safety as she may in a vulnerable state. Keliyah is described as being 5'7" tall, weighing 130lbs. She has dark brown, shoulder-length hair and brown eyes. There is no current clothing description available.
Anyone with information on the location of Keliyah Bedard-Tootoosis is asked to call the Saskatoon Police Service at 306-975-8300.
(Occurrence Number: 20-90053)
ATTACHMENT: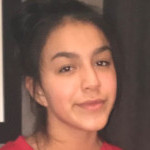 (Click to view full size)