September 28, 2020 9:59 AM




Hana Thompson, the subject of a missing person investigation, was located over the weekend and found to be safe.

The Police wish to thank the public and media for their assistance.
A photo of missing person Hana Thompson is attached.
If anyone has information on Hana's whereabouts, please contact Police at 306-975-8300 or Crime Stoppers at 1-800-222-8477.



August 28, 2020 2:25 PM




The Saskatoon Police Service is requesting the public's assistance in locating 19 year old female, Hana Thompson.

Hana Thompson was last seen at the White Buffalo Youth Lodge on August 7, 2020 at approximately 10:00 p.m. There are concerns for her safety as she may be in a vulnerable state.

Hana is described as being 5' 5" in height, 160 lbs, with short black hair and brown eyes. There is no clothing description or photo available at this time.

If you have any information on the location of Hana Thompson, please contact the Saskatoon Police Service at 306-975-8300.
(Occurrence Number: 20-87432)
ATTACHMENT: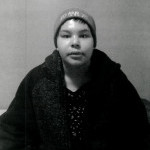 (Click to view full size)